Shoalhaven Coast Winter Wine Festival 2017
---
---
View Accessibility for each winery
The 14th Annual Shoalhaven Coast Winter Wine Festival is coming up!
Wineries across the Shoalhaven Coast Wine Region open their cellar doors on the 10th June for a three-day extravaganza of wine tasting, fine food and entertainment. Festival-goers pay $15 entry at the first winery they visit, which includes a Festival Glass and enable them to enjoy tastings at participating wineries from Gerringong in the north to Bawley Point in the south.
Over three days visitors will be treated to a program featuring wine and fabulous food.
Various events are held throughout cellar doors across the region including live music, long lunches, winemakers' dinners, market stalls, art exhibitions, wine education talks, vineyard tours, BBQs and so much more.
Programs of Participating Wineries
*Note: Numbers Identify wineries location on the map.

Enjoy wines in the spectacular beauty of Yarrawa Estate from 10.30am to 5.00pm.
Hungry? German sausages, mustards and sauerkraut on rolls with a glass of wine ($18).
Sunday evening join us for dinner at Bistro 146, Moss Vale Rd. Kangaroo Valley. Five courses including wines ($125).
Bookings Essential. Please phone the restaurant direct on 02 4465 2820.
Website: yarrawaestate.com
Phone: 02 4465 1165
Live entertainment Saturday: Rhythm in Motion with John-Mikael and Priscilla. Sunday: Penny Hartgerink
Sat/Sun Arepa: Venezuelan Food – pulled pork, tuna salad and vegetarian fillings in corn bread pockets.
Barista Coffee & Cheese Tasting. Award winning wines. Sparkling white, pink and red bubbles. Artwork which inspired our wine labels.
Relaxing views of Saddleback Mountain and Rose Valley.
Website: roseleavineyard.com.au
Phone: 02 4234 0340
Crooked River Wines is offering you three days of festivities with live entertainment daily in our natural amphitheatre overlooking the spectacular Saddleback Mountain ranges.
Choose to dine at Oak Room Eleven, Wine Bar / Restaurant, or bring a picnic blanket and spend the hours with a great drop of Crooked River Wine or your favourite Uncle Joe's Craft Beer. See you here!

Website: crookedriverwines.com
Phone: 02 4234 0975
Hourly talks in the 'Barrel Room' with the winemakers. Lots of food options, including fresh oysters; wood fired pizza; outdoor paella; coffee and gourmet produce. A working Alpaca farm, cheese tasting and music make this 'Winery of the Year' four years running, a must visit. Restaurant bookings essential.
Website: silosestate.com
Phone: 02 4448 6082
At Mountain Ridge Wines our theme is celebration. We are celebrating the natural beauty, productivity, industry and health of our region and we invite you to celebrate with us. We are going to have at least two live bands, dancing, local foods and wines. We are giving you a platform for celebration and fun; join in and let us help you celebrate whatever you want to.
Website: mountainridgewines.com
Phone: 02 4448 5825
Enjoy 'Rocking the Vineyard' Bands Saturday, Sunday and Monday (TBC)
BBQ in the Wine Garden, Oyster Bar, Gourmet Pies and Sausage Rolls, Saturday, Sunday, Monday available from 10.30am
Alexanders Grill (restaurant) Saturday, Sunday 12 – 2.30pm
Bigfoot and Segway Tours
Cellar Door 10am – 5pm every day. Try the range of entirely Estate grown wines from the Regions 5 star winery.
Website: coolangattaestate.com.au
Phone: 02 4448 7131
7. Two Figs Winery
Cnr Bolong Road & Back Forest Road, Shoalhaven Heads
Join us for tastings of our award winning boutique wines, including the 2015 winner of "Best Wine made in the Shoalhaven" while enjoying spectacular views.
The ever popular roaming jazz band "Hot Potato" are back! Many food options will be available: wood fired pizza, homemade sausage rolls, local gourmet cheese plates, coffee etc.
Website: twofigs.com.au
Phone: 02 4448 5003
Join us at Cambewarra Estate for three days of live music, market stalls & high teas (bookings essential).
Start your wine tour with a hearty bacon & egg roll, all day delicious BBQ, menu with cranky dogs, oysters 2 ways, lamb skewers & tasty desserts. Full info / menu on website.
Website: cambewarraestate.com.au
Phone: 02 4446 0170
Come and enjoy a glass of wine, something to eat and live music! Bawley Vale Estate will host fantastic live music on Sunday from 1pm till 3pm. Food will also be available for purchase.We look forward to seeing you at the region's newest winery!
Website: bawleyvale.estate
Phone: 02 4457 2555
Local cheese producers, Unicorn will be offering cheese tastings at various wineries throughout the weekend.
Licensing regulations do not permit BYO food or alcohol.
For more details
Follow the festival on Facebook , or Download the Winter Wine Festival Brochure
Festival Hours
Participating wineries are open from 10am – 5pm throughout the festival unless otherwise stated.
Entry Fee
Just $15 entry at the first winery you visit gets you a souvenir Festival Glass and you can enjoy tastings at participating wineries from Gerringong in the North to Bawley Point in the South and West to Kangaroo Valley.
Note: Must be 18 years or older to drink alcohol, children 17 or under must be accompanied by an adult.
Stuart's Coaches Hop-on Hop-off Bus
Stuart's Coaches Hop-on Hop-off Bus timetables now available for you to plan your fantastic day at this years Shoalhaven Coast Winter Wine Festival.
And the best news is……
This year coaches have been added so you can get to Crooked River Wines and Roselea Vineyard all with the one ticket.
Cost per person: One Day Pass = $50, Two Day Pass = $70
For Bookings, call Stuarts Coaches: 02 4421 0332
Make sure you don't leave it until the last minute as they will get booked out!
Download Timetables:
Wine Festival 2017 Timetable Final | Roselea and Crooked River 2017
Where to Stay
Book your accommodation early gather your friends and family and join us this June long weekend in the vines.
See what it's all about
Videos from 2016, courtesy of Greg Ellis, South Coast Register.
Day 1 tour of wine festival: Crooked River Wines, Silos Estate and Cambewarra Estate
Day 1 tour of wine festival – Part 2 – Two Figs Winery and Hot Potato
Day 1 tour of wine festival – Part 3 – Coolangatta Estate, Mountain Ridge Wines & Roselea Vineyard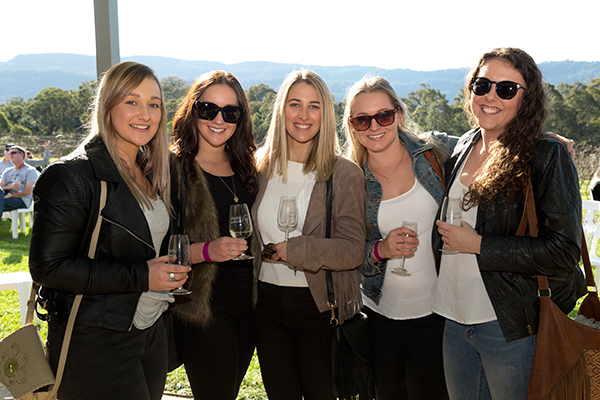 A girls day out at the Winter Wine Festival, taken at Cambewarra Winery – Photo by Nardia Guillaumier, NEG Photography
For further information, contact:
Nicole Mallos
Shoalhaven Coast Winter Wine Festival
winefestival@shoalhavencoastwine.com.au
tel: 0413 052654

---